My 4th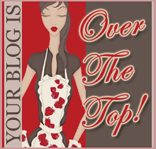 This beautiful award i received from BitterSweet Life, thank you so much ... it's so lovely. Salamat sa award, mare ...
And here is the message of the award:
"To receive this award your blog
must be

exceptional in design and content

;

presenting us with new knowledge

,

a sense of style

, or

at times giving us a smile

!
Each recipient of this award must acknowledge the person who honored them with the award and then go to http://www.overthetopaprons.blogspot.com to copy/paste the award: Your Blog is Over the Top".
Now I'm passing this award to the following Over the Top bloggers that I know: